Site Redesign: Churchill Cigar Lounge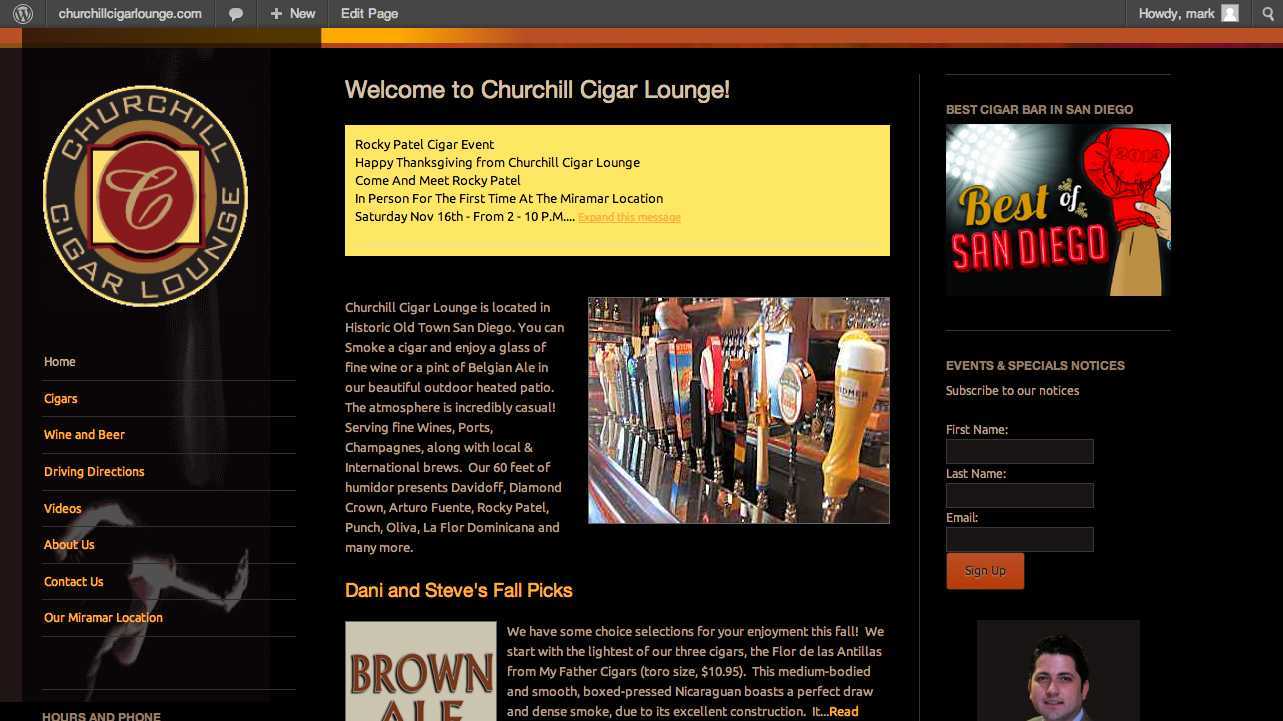 November 14, 2013, San Diego, CA  – The initial configuration for a web presence of the two locations for Churchill Cigar Lounge was two Joomla installations with very little 2nd level content for the Miramar location.  The new design incorporates a more robust interface for updating content; a more integrated use of the Facebook feed and a unique image created from video.  The design also accommodates smart phone presentation with a responsive template.
The two locations still answer at different domains: churchillcigarlounge.com and churchillcigarloungemiramar.com – but they are contained within the same physical location within an installation of a single content management system.  Using redirects and customizable sidebars based on content, the appearance to the user of two different though similarly branded sites is maintained.
In addition, since the 20 beer taps at both locations change frequently as does the focus on cigars in the large humidors at both locations, the content can be updated through a simple email interface.
The signature image below the logo is video converted to an animated GIF formatted image compatible with most browsers and less than 500k for 20 seconds of motion.
Churchill Cigar Lounge is located in Historic Old Town San Diego. You can Smoke a cigar and enjoy a glass of fine wine or a pint of Belgian Ale in our beautiful outdoor heated patio.  The atmosphere is incredibly casual! Serving fine Wines, Ports, Champagnes, along with local & International brews.  Our 60 feet of humidor presents Davidoff, Diamond Crown, Arturo Fuente, Rocky Patel, Punch, Oliva, La Flor Dominicana and many more.