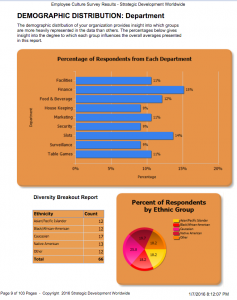 This site serves as a portal for customer access to the Employee Culture Survey offered by Strategic Development Worldwide.  Customers login to retrieve the URL for distribution of the survey to its employees and then again to view the report that is generated automatically.
The portal deploys WordPress user login functions and a modified membership system to present private company information (the survey and resulting report) to authorized users only.
The system employs a survey written in the Microsoft .NET format with information stored in Microsoft SQL server from an open source codebase.  The administration of the survey is done through a separate interface by SDW personnel.
The final 103 page report – formatted for double sided printing – describes the demographics of the survey sample and then documents the answers in 8 defined data sets. The report can be exported in PDF, Word or Excel format.   Stored procedures with SQL queries process the data at the server and return it to the reporting system for formatting and presentation.